Savner du de glade 70'ere hvor disco var på sit højeste? Lad Disco Spins spillemaskinen taget dig med tilbage – til glæden, til rytmen og til musikken. Det hele er kombineret i en klassisk spilleaskine.
Om du vil det eller ej: 70'erne var en stor tid, som aldrig vil blive glemt. Os – mennesker – lærte at have det sjovt, at feste – på en forsvarlig måde – uden at det blev for kedeligt. Det var en stor tid – specielt for Danmark, som Disco Spins hylder.
Disco Spins har et klassisk disco-design. Hvad der er vigtigt at hæfte sig vel, er musikken. Der er mange sjove og underholdende lyde, som hele tiden holder energien oppe. Det er sjovt, at spille på Disco Spins. Hvis du vinder noget, tæller musikken opad – indtil beløbet standser. Når du rammer de rette kombinationer, kommer der klassiske disco-lyde.
Du kan satse fra under en krone pr. spin, til over 10 kroner pr. spin. Dette gør mulighederne for gevinststørrelserne unikke. Vil du vinde store penge, må du satse stort. Vil du bare have det sjovt – og stadigvæk have mulighed for at vinde de store jackpots? Så sats en krone pr. spin.
GEVINSTLINJER OG FEATURES VED DISCO SPINS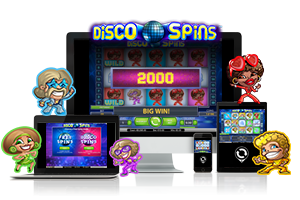 Som noget unikt blandt mange nye spillemaskiner, kan du selv vælge, om du vil spille på 1, 5, eller 20 linjer. Ja, faktisk bestemmer du helt selv, antallet af linjer du vil spille på. Ligeledes har du 10 indsats-niveauer, som gør det muligt for dig, at skræddersy dine spins – helt som du vil.
Du har 5 hjul – 3 rækker – og 20 fast satte udbetalingslinjer. Derudover er der naturligvis de obligatoriske funktioner: gratis spins og wild-symboler (de symboler, der kan erstatte andre symboler og dermed højne chancerne for at vinde).
Spillemasknen er udviklet af det højt respekterede Nets Entertainment, der står bag hundredevis af spillemaskine-succeser – verden over.
Udbetalingsprocenten er på 98% og er dermed en af de højere udbetalingsprocenter blandt spillemaskiner.
SCREENSHOTS AF DISCO SPINS SPILLET
SPIL MED RIGTIGE PENGE & FÅ GRATIS SPINS