Ved første øjekast er Hit 2 Split en frugt maskine, som er blevet overfyldt. Spillet har dog meget mere at byde på end blot en masse frugt symboler. Hit 2 Split har en masse lækre godbidder at sætte tænderne i!
Hvis du nogensinde har spillet Net Entertainments spil, Twin Spin, så vil du med garanti elske Hit 2 Split. På mange måder minder de to spil om hinanden, dog har Hit 2 Split mange flere bonus funktioner.
Det er et meget gennemført spil med et interessant tema, og en hel række af specielle funktioner i højeste klasse. Det er tydeligt at NetEnt har lånt funktioner fra tidligere udviklet slot maskiner, men hvad er der at brokke sig over? Gratis spins runden er noget aldeles ekstra, og når man topper det med multiplikationerne og at man kan stable sine wild symboler, så ender man ud med et produkt som spillerne vil elske. Det kræver et særlig stort uheld ikke at vinde bare lidt profit, når du er i en gratis spins runde.
GRAFIK OG TEMA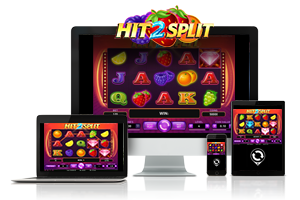 Spillet Hit 2 Split har et meget retro og klassisk design, men bærer dog også præg af at have indflydelse fra de moderne spillemaskiner fra Las Vegas. Grafikken kommer i en flot indpakning, som både er farverig og bliver leveret i en meget høj opløsning. Animationerne er flotte, og lyden er ekstraordinær!
SCREENSHOTS AF HIT 2 SPLIT SPILLET
EFFEKTER OG SPECIELLE SYMBOLER
I Hit 2 Split finder du to specielle symboler, mere specifikt wild symboler og gratis spins symboler.
Wild symbolerne i Hit 2 Split fremvises i formen af en pink diamant, og et "wild". Som bliver vist rimelig ofte – dog får du ingen multiplikationer ud af det.
Gratis spins symbolerne ses i form af én eller to diamanter, som kommer an på om symbolet fungerer som et enkelt symbol eller et dobbeltsymbol. Med tre gratis spins symboler vinder du en præmie, og med mindst fire vil du aktivere spillets gratis spins runde.
Her får du en gennemgang af, hvad du kan opnå med symbolerne:
3 symboler = 2x indsats
4 symboler = 2x indsats + 10 gratis spins
5 symboler = 2x indsats + 15 gratis spins
6 symboler = 2x indsats + 20 gratis spins
7 symboler = 4x indsats + 25 gratis spins
8 symboler = 10x indsats + 30 gratis spins
I gratis spins runden er der to yderligere bonus funktioner. For det første bliver alle gevinster ganget med tre. For det andet kan de vilde symboler stables.

PRØV SPILLET MED RIGTIGE PENGE & FÅ BONUS